Inas Earrings
Out of Stock
$ 13.91
Out of stock
Notify me when the item is back in stock.
Gleam & glow in Inas earring. She'll groove when you move.
Materials & dimensions
Multifaceted turquoise glass crystals
Natural baroque freshwater pearls
Threaders are crafted with gold vermeil
Full length measures 7 cm, before threaded through the lobe. Length is adjustable
We make every effort to give you accurate information regarding sizing information and dimensions for our jewellery, but in certain cases the length varies depending on the dimensions of the natural materials used. Kindly allow for +- 0.5cm difference.
How to Wear
Gently thread through your ear piercing and adjust the length according to your preference.
Note: The threaders are very delicate. Handle with care & do not tug too hard.
Our Natural Materials
Mother nature ensures every stone & pearl is unique. Kindly allow for slight differences in distribution of colour, pattern, shape, size & texture – all of which contributes to the novelty & uniqueness of each piece we create. If you proceed to purchase, it is assumed you have acknowledged this. Should you have further questions, feel free to reach us here.
Our Packaging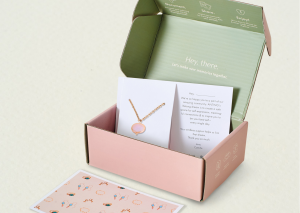 Orders in one single receipt will arrive you in one (1) ANTING signature box packaging, alongside a notecard. 
If this is a gift, we'd be more than happy to handwrite a message for you – just remember to enter the message in the column available at checkout. 
Should you need more than one box, you may purchase add-on packaging here. Additional packaging elements, if needed, are also chargeable. 
*Note: For sale/promotional orders below RM 39, your order will not come in our signature box
Shipping
FREE shipping on orders above RM 180 (Malaysia only)
If you are not eligible for free shipping, the following costs apply:
RM 15 – West Malaysia
RM 13 – Sarawak
RM 8 – Sabah
Inas Earrings
$

13.91
Out of stock
Notify me when the item is back in stock.